Tire Replacement: When and Why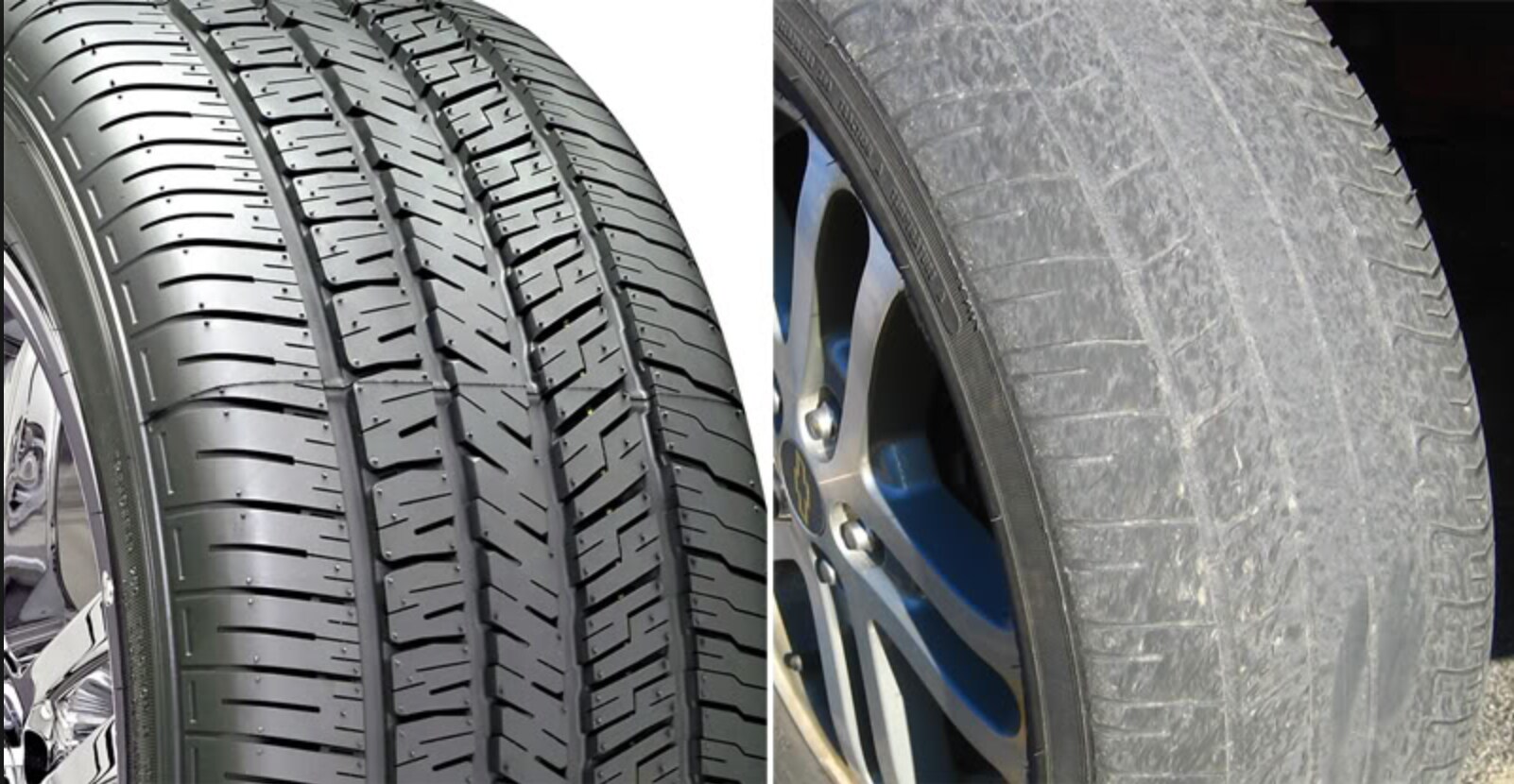 Not to state the obvious, but consider these facts about your vehicle and its tires. When you apply the accelerator the power is transmitted to the road through the tires. When you turn the steering wheel the car's steering components physically turn the front wheels but it is the job of the tires to grip and turn the car. When you apply the brakes, again, the car's brake system stops the wheels from turning and it becomes the job of the tires to stop the car. Not so obvious but also of importance to a car owner, is the tire ride quality and the tires ability to dampen road noise. For these reasons (mainly safety) replacing tires should be done at an appropriate time. And when would that be?
The tire's tread depth is what is most often used in motivating us to replace tires. The law states a tire worn to 2/32" or less cannot be operated on a public road. A tire worn to this point has lost 90% of its wet traction and it is highly susceptible to catastrophic failure due to impact. BUT, there are other considerations as well, like the age of the tire. Over time, the rubber compounds in a tire deteriorate. Regardless of the depth of the tread an older tire poses a safety hazard. The expected weather conditions (i.e. rain, snow or ice) needs to be a factor in deciding if new tires are needed. The basics of delivering traction and handling in rain, snow and on ice remain unchanged. Tires must combine three fundamental features to deliver safe performance on less than dry road conditions, including an appropriate tread design, pliable tread compounds and sufficient tread depth. If any of these fundamental features is absent, the other two (regardless of their ability) cannot deliver the desired results. It is recommended that drivers expecting to encounter wet conditions consider replacing their tires when they reach 4/32" and for those expecting to drive on snow-covered roads, replace their tires at 5/32".
Not sure how your tires compared to these recommendations? Stop by either the Parts or Service Departments of Middlekauff Honda and we'll be happy to inspect the tires and give you a straight foreword appraisal. We can also help with the daunting task of selecting what tires might be best for your vehicle.
One of Middlekauff Auto Mall's Promises is Best Price Tire Guarantee. If you find tires for less anywhere else, we'll meet and beat the price. Shop here for your new tires.
Written by Parts Manager, Jim Piper.
Jim Piper is Middlekauff Honda's Parts Manager. Prior to his current position he was in the tire business for 29 years working for the likes of Firestone Tire and Rubber, the B.F. Goodrich Company, Bridgstone Tire and finally as an independent tire retailer.