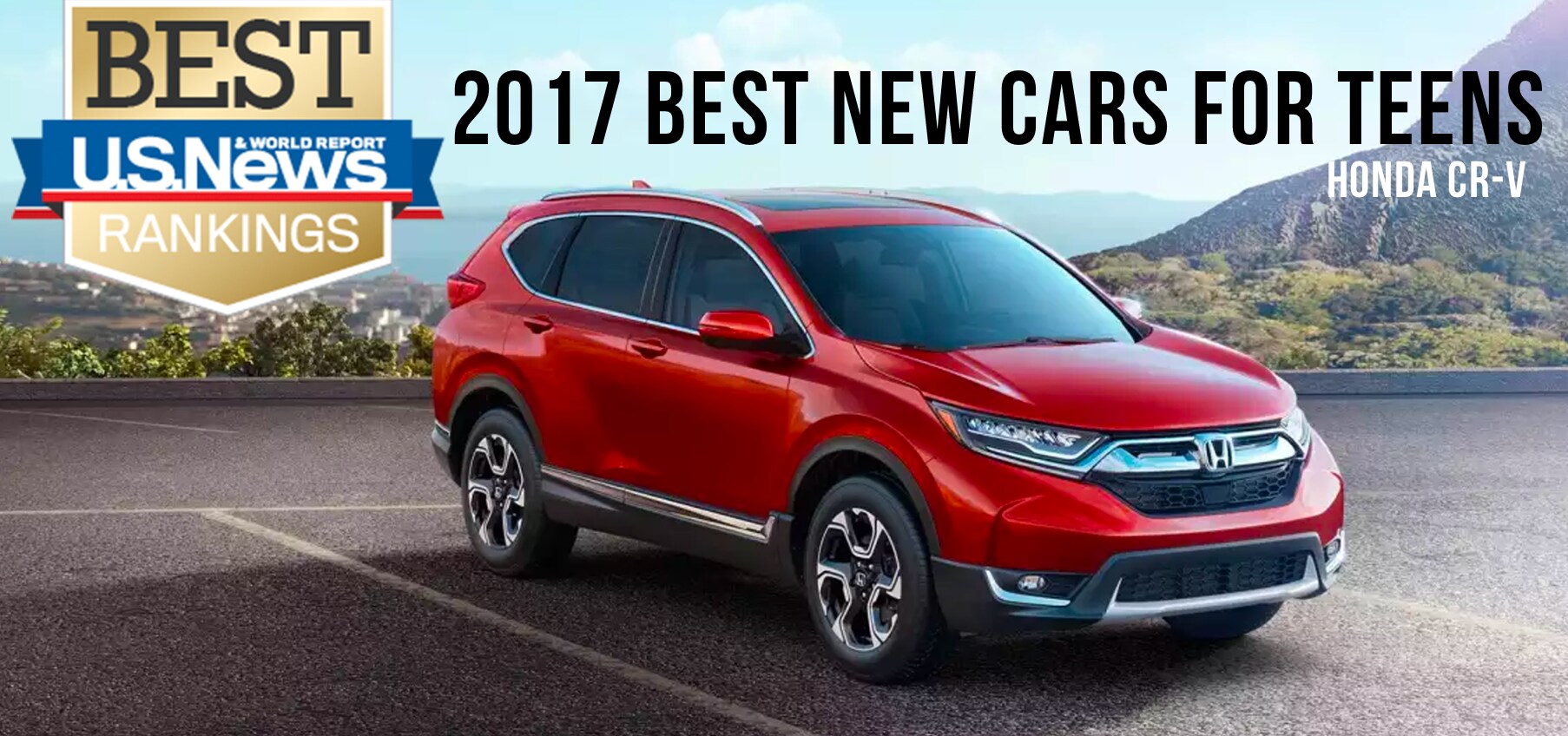 With a primary focus on safety, U.S. News & World Report awarded the 2017 Honda CR-V as the "2017 Best New Car for Teens" in the SUV and Crossover category with MSRPs from $25,000 to $30,000. The all-new 2017 CR-V includes many passive and active safety features such as the available Honda Sensing® suite of safety and driver assistive technologies. Honda Sensing® includes the Collision Mitigation Braking System (CMBS™) with Forward Collision Warning (FCW), Lane Keeping Assist System (LKAS) and Road Departure Mitigation (RDM) with Lane Departure Warning (LDW), and Adaptive Cruise Control (ACC) with Low Speed Follow. Below is the article.
Excellent Choices for Young Drivers
A 16-year old with a new driver's license often can't wait to get behind the wheel, but parents usually aren't so enthused. Handing over the keys to a teenage driver understandably brings some concern and anxiety for Mom and Dad. Inexperience, combined with some destructive driving habits, make young drivers more likely to be involved in a crash. According to the Center for Disease Control and Prevention, six teens aged 16 to 19 die every day from motor vehicle injuries.
A recent study by Liberty Mutual found that two thirds of teens say using music apps while driving is dangerous, but nearly half admitted to using them behind the wheel. Plus, half of teen drivers also admit to texting while driving, according to a study by AAA. When teens are adjusting the playlist or communicating with friends, they're not paying attention to the road, and the consequences could be grave.
A distracted and inexperienced driver needs all the help they can get to stay safe, and that's where a vehicle's driver-assistance technologies and crash protection come into play. We've identified the Best Cars for Teens to help keep your teenager, and other drivers, safe. Each car has a long list of accident-avoidance technologies such as blind spot monitoring, forward collision alert, lane departure warning, rear cross traffic alert, and automatic braking, as well as top-rated crash test performance, so occupants will be well-protected should an accident occur. Plus, new technology in some vehicles allows parents to set speed and audio volume restrictions when their teen is behind the wheel, while other systems can send parents updates on their teen's driving behavior.
The Best Cars for Teens have the best combination of overall quality, high safety ratings, and accident-avoidance technologies across five price brackets. Some of the more expensive vehicles on this list have the space and features to keep your whole family comfortable and safe, so they're a sensible purchase for adult drivers whom only occasionally let their teen borrow the car."